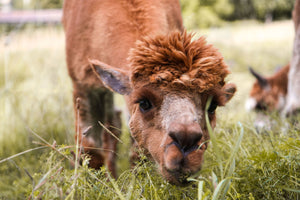 Unique Sustainable Beauty
Alpaca is one of the world's rarest and softest fleeces, sought after for its cashmere-like softness and gentle warmth.
Our made-in-Manitoba textiles are crafted from the finest quality alpaca wool. Exclusive to SLM Alpacas, our products reflect our alpaca's rich natural colours and are as timeless as they are unique.
We Love Alpacas
Alpaca is a species of camel. Like llamas, but smaller, alpacas are gentle and curious by nature. They have a fine, heavy fleece that occurs naturally in over 22 shades ranging from black, charcoal, silver, sand, brown, and ivory making alpaca wool ideal for clothing.
Connect with us on Facebook and Instagram!
Have questions about our alpacas and/or alpaca products? We'd love to hear from you. We appreciate all interest and inquiries.
Get in Touch